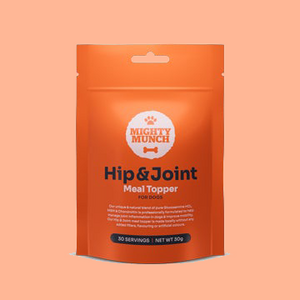 MightyHealth™ Hip & Joint Soft-Chew Supplements
A super delicious treat that helps eliminate your dog's joint pains.
Mighty Munch has developed a breakthrough science-based formula that eliminates the hassle of pills and tablets for joint support. If you're looking for delicious dog joint pain supplements that will have great results on their joint mobility and bone strength, try our soft chews today.
Dog Joint Pain Supplements – So your dog can feel like a puppy again
No matter how old your dog gets, there will always be a happy, excitable ball of energy on the inside. Unfortunately, aches and pains are just as common in senior dogs as they are in older people. If you want to help your best friend turn back the clock and unleash their inner puppy, consider the dog joint pain supplements in our range.
MightyHealth Hip & Joint Soft-Chew Supplements are a great tasting daily treat that your dog will love. While they're munching away on their new favorite treat, their dog joint pain supplements will be doing vital work in their body to reduce pain and increase mobility and energy.
Why Choose Our Dog Hip and Joint Soft Chews?
At Mighty Munch, we are dog people. We're the sort of people that will come up to your dog in the park and give them the biggest pats in the world because every dog deserves some extra love.
Our dog hip and joint soft chews have been formulated with the same love and passion in mind. Backed by science and approved by veterinarians, our range offers results without the sluggish side effects that come with painkillers. If you're looking to offer your pet real relief without drowsiness, our soft chews might be the best dog joint supplements for you and your fur baby.
Natural Supplements for Dog Arthritis
At Mighty Munch, we pride ourselves on providing natural joint pain relief for dogs. We are happy to say that our range is as natural as a dog chasing a ball, chasing its own tail, or barking at seemingly nothing at all!
If you've been searching for dog arthritis supplements, consider the natural supplements for dog arthritis on offer from our team. Filled with ingredients that reduce pain and inflammation and protect and rebuild cartilage, we offer dog chews for arthritis with complete transparency. To view all the ingredients in MightyHealth Hip & Joint Soft-Chew Supplements, view the ingredients tab now!
24/7 Customer Support
We love our customers just as much as we love their dogs (Well, we might love your dog more). But since you are an amazing dog parent, we are here to help whenever you need it :)
Free Shipping
We always pay for shipping, and we take pride in looking after our customers. Once you become part of the Mighty Munch family, you become part of us. We look forward to getting to know you!
Fast Delivery
We already know that your dog's tail is wagging. We get it, and that's why all your orders leave our warehouse the same day. Hang in there, pooch! Your hip and joint relief is on the way.
Glucosamine HCI
Helps rebuild cartilage. Our hydrochloride glucosamine is specifically refined for dogs.
MSM
Helps reduce pain and inflammation. Let's your dog enjoy playing around while improving their joints.
Chondroitin
Helps protect cartilage. Rebuilding joint cartilage is one thing, but protecting it is just as important.
An ingredients list we are proud of:
Glucosamine HCl, MSM, Yucca schidigera, Chondroitin, Calcium Ascorbate (Vitamin C), DL-alpha-tocopheryl acetate (Vitamin E), Omega-3 Fatty Acids (Fish Oil & Flaxseed), Omega-6 Fatty Acids (Fish Oil & Flaxseed, Brewer's Dried Yeast, Canola Oil, Citric Acid, Dried Potato Product, Glycerin, Lecithin, Maltodextrin, Mixed Tocopherols, Natural Flavoring, Rosemary Extract, Sorbic Acid, Tapioca Starch, Vegetable Oil, Water.
Frequently Asked Questions
Our world-class team prepared answers to your common questions.